Journal h-index : 5

Journal cite score : 1.44
Journal impact factor : 0.37
Average acceptance to publication time (5-7 days)
Average article processing time (30-45 days) Less than 5 volumes 30 days
8 - 9 volumes 40 days
10 and more volumes 45 days
About The Journal Open Access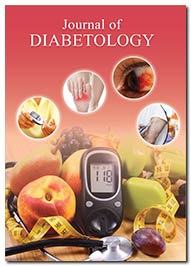 Journal of Diabetology is an international peer-reviewed, open access journal which publishes high-quality original articles reporting new information on basic and clinical aspects of diabetology and its related areas.
The goal of this journal is to serve international scientific and clinical communities to strengthen links between science and policy and to stimulate and enhance the quality of debate.This journal is an attempt to bridge the knowledge gaps across a wide range of bench-to-bedside investigation and encourages original research works to make a significant contribution towards advancing knowledge and suppports evidence based clinical practice.
The journal includes a wide range of topics for publication that includes Diabetes and Metabolic syndrome, Pathophysiology of Diabetes, Neuropathy & Retinopathy, Diet and Diabetes, Clinical Diabetology, Diabetes & Recombinant Technology, New treatments, Technologies and Therapy, Diabetes & Endocrinology Research, Diabetes Symptoms, Diabetes and Autoimmune diseases, Diabetes Epidemiology, Obesity and Diabetes,Childhood Diabetes,Hypogycemia, Diabetes Management and Cure, Diabetes Biomarkers, Cardiovascular Diseases, Genetic,Metabolic dysfunction and Obesity, Diabetes and Exercise, Type I & Type II Diabetes, Endocrinology and Metabolic Syndrome, Molecular Diabetology, Ayurveda and Diabetes, Anti-diabetic Drugs and Research,Diabetes Stastistics Diabetes: Diagnosis and Implications, Diabetes connections with other disease.
Journal of Diabetology encourages researchers, clinicians and health professionals throughout the world who are interested in research, treatment and care of patients with diabetes to submit their manuscripts as editorials, reviews, commentaries, reports of expert committees, and case reports on any aspect of diabetes. All manuscripts are peer-reviewed and published under the guidance of our Editorial Board members to assure that high-quality information in the field of diabetes is made available to readers.
Journal of Diabetology welcomes submissions via Online Submission System https://www.scholarscentral.org/submissions/diabetology.html or or via email to the Editorial Office at diabetology@escientificjournals.com and/or diabetology@esciencejournals.org
h-index
Articles published in Journal of Diabetology have been cited by esteemed scholars and scientists all around the world. Journal of Diabetology has got h-index 5 , which means every article in Journal of Diabetology has got 5 average citations.
Just Published Articles View More
Relevant Topics