Journal h-index : 3

Journal cite score : 0.86
Journal impact factor : 0.62
Average acceptance to publication time (5-7 days)
Average article processing time (30-45 days) Less than 5 volumes 30 days
8 - 9 volumes 40 days
10 and more volumes 45 days
About The Journal Open Access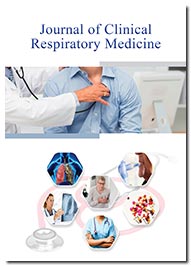 Journal of Clinical Respiratory Medicine is a medical science specialization dealing with lungs and respiratory system, and also the diseases that affect respiratory system. It has consequences on lungs for ability to carry oxygen in and expel carbon dioxide.
Journal of Clinical Respiratory Medicine is an impactful scientific journal and mainly focussing on the clinical relevant pulmonary care studies. This journal's aspires to publish most recent clinical research findings in the fields of medical science, Therapeutics, and respiratory equipment like intrapulmonary Percussive Ventilation and Positive Expiratory Pressure including COPD, pulmonology, asthma, and nose were included. It combines together slashing research work and up-to-date reviews on all areas of respiratory ailments including therapeutic interventions.
It is really the idea of making originally published scientific articles freely and permanently publicly available. So anyone everywhere can examine and develop among themselves. Text mining is used to evaluate the material, which will be reused to business reasons.
Published articles are covered by the indexing and abstracting in global databases such as Google Scholar.
Journal of Clinical Respiratory Medicine has broad scope on Respiratory medicine it is focused on the impact of pulmonary sickness on the lungs and other regions of the respiratory system, which can be caused by infection, cigarette use, passive smoking, radioactivity, asbestos, and diverse forms of polluted air.
Publishing of high-quality original research articles is incentivised by this journal like Case studies, Review article, Editorial, Short communication, Opinion, Perspective and Commentary, Editorial, Clinical investigation, Research article.
Manuscripts are peer-reviewed by well acclaimed subject professionals in a single-blind peer-review process, and submissions from a wide range of disciplines are solicited. All new manuscript submissions are peer-reviewed and evaluated based on the Overall value of a technical content, the effectiveness and clarity of presentations and a professional standards.
When the author submits a manuscript and a tracking number is generated. The editorial staffs undertakes a preliminary quality inspection of the manuscript to confirm the prescribed formatting.
Manuscript Submissions can be made online at https://www.scholarscentral.org/submissions/clinical-respiratory-medicine.html or via email to the Editorial Office at: respiratorymed@emedicalscience.com
Subject experts with professional experience are welcome to join the EB member by sending their brief CV and biography to respiratorymed@healthcareres.org
h-index
Articles published in Journal of Clinical Respiratory Medicine have been cited by esteemed scholars and scientists all around the world. Journal of Clinical Respiratory Medicine has got h-index 3 , which means every article in Journal of Clinical Respiratory Medicine has got 3 average citations.
Just Published Articles View More
Relevant Topics