About The Journal Open Access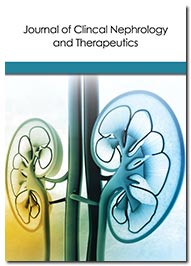 Journal of Clinical Nephrology and Therapeutics is a leading open access, peer reviewed scientific journal that publishes original scholarly contributions from researchers across the globe that are intended towards the development of novel and improved diagnostic methods and therapeutic strategies specifically for kidney diseases, urinary tract obstruction associated physiological complications, tubulo-interstitial diseases, kidney stones, urological disorders and other nephrological disorders viz. acute kidney failure, inherited disorders of the renal tubule, chronic kidney diseases, proteinuria, hematuria, urinary tract infections, urologic surgery, urologic oncology, endourology and disorders of acid/base or electrolytes.
The journal functions as a platform that serves to bridge the gap between scientific explorations and findings, and implementing them for the development if clinically applicable medical tools and techniques.
Aims and Scope
The Journal of Clinical Nephrology and Therapeutics publishes scientific manuscripts that are directly or indirectly based on variegated aspects of clinical nephrology, diabetic nephropathy, pediatric nephrology, renal physiology, renal histopathology, immunobiology, intensive care nephrology and ischemic nephropathy.
The journal most specifically emphasizes on the propagation of research developments that may contribute in the furtherance of research and clinical implementation of novel tools as well as adept clinical techniques including renal transplantation, dialysis, diagnostic kidney imaging, aging and kidney disease, hemodialysis, body fluid volume composition, nephron endowment and erythropoietin therapy.
The journal accepts original submissions in the form of research articles, review articles, short communications, opinion articles, case reports and commentaries. Acceptance or rejection of the manuscript solely depends upon the comments of independent reviewers. Positive review by at least two reviewers is mandatory for the acceptance and publication of any citable manuscript.
You may submit manuscripts online at: www.scholarscentral.org/submission/clincal-nephrology-therapeutics.html or you may send the article as an email attachment to the following mail-id: [email protected]
Just Published Articles View More
Relevant Topics