About The Journal Open Access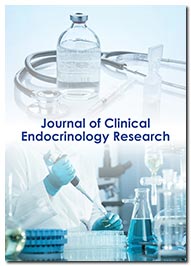 Journal of Clinical Endocrinology Research is an open access, peer reviewed, interdisciplinary scholarly journal that is specifically designed for the publication of scientific manuscripts pertaining to endocrinological research. The journal aims to progress the research and development of medical tools which can expand the adept methods as well as innovate new and better tools and techniques for the treatment of endocrinological diseases.
Aims and Scope:
The Journal of Clinical Endocrinology Research envisages the publication of latest developments in the field of clinical endocrinology and its allied scientific disciplines viz. geriatric endocrinology, pediatric endocrinology, behavioral endocrinology, gynecological endocrinology. The journal most specifically prioritizes the publication of manuscripts that showcase abstruse aspects of diagnosis and treatment of endocrine diseases, endocrine system based cancer and tumors, hormone disorders, and other related systemic disorders, like, diabetes, insulin resistance and disorders caused due to abnormally functioning pituitary gland, thyroid gland, parathyroid glans, adrenal gland, etc.
The journal also publishes manuscripts that exhibit clinical efficacy and extant discrepancies in the adept methods of treatment of endocrine diseases, such as the hormone therapy. The journal strictly adheres to a double blind peer review process. Approval of two independent reviewers and the editor-in-chief are necessary for the acceptance and publication of an article
You may submit manuscripts as an email attachment to [email protected] or you may submit manuscripts online at https://www.scholarscentral.org/submissions/clinical-endocrinology-research.html
Just Published Articles View More
Relevant Topics