Journal H-index : 3

Average acceptance to publication time (5-7 days)
Average article processing time (30-45 days) Less than 5 volumes 30 days
8 - 9 volumes 40 days
10 and more volumes 45 days
About The Journal Open Access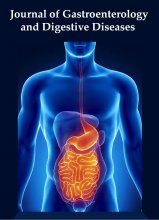 Journal of Gastroenterology and Digestive Diseases publishes high-quality, peer-reviewed original scientific communications in gastroenterology, hepatology, and allied domains addressing emerging challenges in clinical research.
JGDD includes comprehensive coverage of basic pathophysiology, modern technological advances, and clinical breakthroughs, as well as insights from prominent academicians and clinical practitioners on new scientific developments and contemporary medical issues, as well as discussions focusing on the latest global situations that affect the fields of gastroenterology and hepatology.
The most common illnesses encountered in patients are gastroenterological problems also extend research by alimentary tract, liver, pancreas, and biliary system. A variety of research papers, including research, reviews, communications, comments, Editorials, and Letters to the Editors are solicited for comprehensive coverage.
This journal follows a single-blind peer-review process and publishes high-quality research communications in the form of original research articles, review articles, case studies, short communications, perspectives, etc. Published articles are freely accessible all across the world and can be viewed or downloaded without any restrictions and the copyright is retained by the author for their published work.
Readers are always welcome to share their views/suggestions which are in line & within the scope of the journal.
The average Article processing time takes around 30-45 days.
Acceptance to publication time 5-7 days
Journal Highlights/Keywords: Functional GI Disorders, Endoscopy Oesophagus, Liver, Pancreas and Biliary Tract, Stomach, Coeliac Disease, Constipation, Cirrhosis, Digestive Bleeding, GERD (gastroesophageal reflux disorder).
This scholarly publishing journal uses Online Editorial Tracking System for reviewing and quality tracking of the manuscripts. The journal follows single-blind peer review process and at least two independent reviewers' approval followed by the Editor is required for the acceptance of each citable manuscript.
Authors are requested to submit their valuable research at: https://www.scholarscentral.org/submissions/gastroenterology-digestive-diseases.html or may send as an e-mail attachment to the Editorial Office at [email protected]
We welcome interested researchers to join our Editorial board member. Send us your Curriculum Vitae (CV) as an e-mail attachment to [email protected]
H-index
Articles published in Journal of Gastroenterology and Digestive Diseases have been cited by esteemed scholars and scientists all around the world. Journal of Gastroenterology and Digestive Diseases has got H-index 3 , which means every article in Journal of Gastroenterology and Digestive Diseases has got 3 average citations.
Just Published Articles View More
Relevant Topics