Journal H-index : 2

Journal cite score : 0.02
Average acceptance to publication time (5-7 days)
Average article processing time (30-45 days) Less than 5 volumes 30 days
8 - 9 volumes 40 days
10 and more volumes 45 days
About The Journal Open Access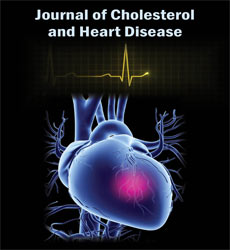 The cholesterol molecule is a combination of fat and protein that is found in the blood stream. Different permutations of protein and fat make the molecule either healthy or harmful. The liver produces cholesterol and sends it to other parts of the body for the production of hormones and cell membranes. When cholesterol is transported in the bloodstream, it is packed into low-density lipoproteins (LDL), sometimes called the "bad cholesterol." Although LDL is needed in limited quantities (LDL delivers cholesterol to various parts of the body), a high LDL cholesterol level can dramatically increase risk of a heart attack.
Abnormal levels of cholesterol can lead to cardiovascular disease. High blood cholesterol is generally the reason for most of the cardiovascular disease, as it accumulate in the arteries and narrow it, a condition called Atherosclerosis.

Aims and Scope

Objective of this journal is to cultivate and share clinical research and experimental work done by scientists, scholars etc. Moreover it gives reviews on clinical and experimental treatments. Research enclosed also includes physiological and therapeutic aspects of cardiovascular disease and cholesterol chemistry.

Journals of cholesterol and heart disease is an open access journal that embraces the study related to following areas:

• Cardiovascular Disease: Myocardial Infarction, Atrial Fibrillation, Bradycardia, Cardiomyopathy
• Combined Risk of Heart Attack or Stroke
• Coronary Heart Disease: Atherosclerosis, Atheroma, Ischemia, Risk Factor for Coronary Heart Disease
• Diuretics, β Blockers
• Hypertension
• Obesity
• Levels of Omega-3 and Omega-6 fatty acids
• Tissue Plasminogen Activator
• Lipids, The Role of High-Density Lipoprotein Cholesterol, The Role of High-Density Lipoprotein Cholesterol
• Diet: Dietary Fat, Smoking
• Naturopathic Medicine
• Food Allergies
• Chronic Fatigue
• Effect of Statins
• Cholesterol: Familial Hypercholesterolemia, Heart Block, Hypercholesterolemia
You may submit manuscripts as an email attachment to [email protected] or you may submit manuscripts online at https://www.scholarscentral.org/submissions/cholesterol-heart-disease.html
H-index
Articles published in Journal of Cholesterol and Heart Disease have been cited by esteemed scholars and scientists all around the world. Journal of Cholesterol and Heart Disease has got H-index 2 , which means every article in Journal of Cholesterol and Heart Disease has got 2 average citations.
Just Published Articles View More
Relevant Topics