Journal cite score : 0.53
Journal impact factor : 0.46
Average acceptance to publication time (5-7 days)
Average article processing time (30-45 days) Less than 5 volumes 30 days
8 - 9 volumes 40 days
10 and more volumes 45 days
About The Journal Open Access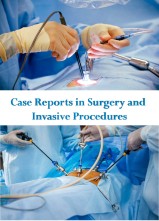 Case reports are defined as the scientific documentation of a single clinical observation and have a time-honored and rich tradition in medicine and scientific publication. Invasive procedure is operative procedures in which skin or mucous membranes and connective tissue are incised or an instrument is introduced through a natural body orifice invasive tests include biopsy, excision, cryotherapy, and endoscopy.
Case reports in surgery and invasive procedures is an open access, peer reviewed journal in this published work is freely available for the readers, journal publishing high quality articles related fields for those researching, or practicing in the fields of Medical and Invasive surgeries. Average article processing time for the journal is (30-45 days).
Aim and Scope
The mission of this journal is to contribute the scientific advances and researches of surgery and to spread the knowledge of novel discoveries and interventions in various fields of science & medicine, new therapeutic agents, approaches and advancements in surgical practices.
Journal focuses mainly on topics such as: Minimally-invasive surgery, laparoscopic surgery, laparotomy, Microsurgery, Robotic surgery and some of the surgical specialties are General surgery, Neurosurgery, Podiatric surgery, Dental surgery, Oral and maxillofacial surgery, Dental surgery, Abnormal Exploration, Cardiac Chaterization, etc.
Here we publish research outcomes in the form of any article type such as Original Research, Case Reports, Review Articles, Short Communications, Letters, Case Studies, Perspective,Opinion etc
The Journal encourages rapid publication of series of Case reports, surgical procedures and Invasive procedures in an open access platform. This journal follows single blind review process through Editorial Manager System helps in maintaining the quality of the peer review process and provides easy access to the authors to track the status of the manuscript, including evaluation and publication in an automated way.
Manuscripts can be submitted via Online Submission or send us an e-mail attachment to the Editorial Office at [email protected]
Individuals interested in becoming members of the Editorial/Review Board should contact by email.
Just Published Articles
Relevant Topics