About The Journal Open Access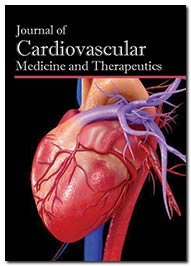 Journal of Cardiovascular Medicine and Therapeutics is committed to dispersing unique and top-level original research articles, letters, perspectives, opinions, commentaries, case reports, reviews, letter to editor, editorials, and short communications etc. in every aspect of cardiovascular medicine.
The segment Cardiovascular Therapeutics is additionally concerned with the identification and validation of biomarkers to either help drug improvement, or permit a stratified medicine approach in patients. Biomarkers may identify with physiological measures,heredity qualities, or any of the developing advancements.
Aims and scope
Journal of Cardiovascular Medicine and Therapeutics gives dependable data upgrade to online viewers with the adapted methods and most advancement in the field of cardiovascular medicine and therapeutics. The editor's welcome articles of current interest on research across all ranges of cardiovascular disease including; arteriosclerosis, cardiomyopathies, coronary artery disease, diabetes, heart disappointment, hypertension, metabolic syndrome, obesity, peripheral arterial disease, stroke, arrhythmias, and genetics.
Journal of Cardiovascular Medicine and Therapeutics is a peer reviewed, scholarly journal that gives a gathering to the most developed research and refined advancements in the field of ischemic coronary illness, congestive heart failure, pharmacological and non-pharmacological treatment, cardiomyopathy, valvular heart disease, vascular disease, cardiovascular science, prosthetic devices, hypertension, arrhythmia, congenital heart disease, preventive cardiology, new diagnostic techniques, cardiovascular imaging and exploratory models of cardiovascular disease.
You may send the article online at www.scholarscentral.org/submissions/cardiovascular-medicine-therapeutics.html or as an email attachment to the mail-id [email protected]
Just Published Articles View More
Relevant Topics