Average acceptance to publication time (5-7 days)
Average article processing time (30-45 days) Less than 5 volumes 30 days
8 - 9 volumes 40 days
10 and more volumes 45 days
About The Journal Open Access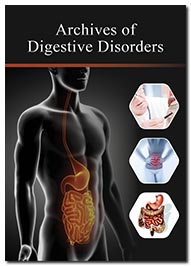 Archives of Digestive Disorders, is an open access journal which will be dedicated to advancing the science and practice of gastric system through the rapid publication of high-quality original research, systematic reviews, meta-analyses and technology reports, perspectives on all disciplines and therapeutic areas within the specialty.

The journal is directed to gastroenterologists and others involved in research and practice of gastroenterology and digestive diseases. It features original research, review articles, clinical cases, perspective, commentary and others which include every facet of the digestive system to find better ways to treat illnesses and conditions that originate in the gastrointestinal system, liver and pancreas. In addition, it provides a forum for the exchange of information on all aspects of gastrointestinal and liver, including educational issues.
The mission of Archives of Digestive Disorders is to provide readers with a broad spectrum of themes in clinical gastroenterology, including the diagnostic, endoscopic, interventional, and therapeutic advances in heartburn/GERD, inflammatory diseases, functional gastrointestinal disorders, nutrition, absorption, and secretion. The principal criterion for publication is potential impact on patient care.
Aims and Scope
Archives of Digestive Disorders is an open access journal designed for the wide dissemination of research in this field to worldwide audience. New developments in methodology and techniques are important resources for the research community.
With an emphasis on conceptual breakthroughs, its goal is to facilitate rapid publication and circulation of novel discoveries in the field of esophageal, gastric, intestinal, colonic, hepatic, pancreatic diseases and other aspects relevant to digestive system that affect the delivery of care of patients with digestive diseases.
The journal scope encompasses the knowledge in medical research of disorders of the digestive system such as Colon and Small Bowel, Diarrhoea, Constipation, Diverticulitis Diet, Gallstones, Ulcer, Blood In Stool, Pancreatitis, Diverticulitis, Appendicitis, Gastritis , Hemorrhoids, Celiac Disease, Autoimmune Disorder, Chronic Constipation, Food Intolerance, Heart Burn, Inflammatory Bowel Disease, Stomach Ulcers, Functional GI Disorders, Cirrhosis, Digestive Bleeding, GastroEsophageal Reflux Disorder, Barrett's Oesophagus, Peptic ulcers, Crohn's Disease, Hernia Dumping Syndrome, Bloating & wind, Faecal incontinence, Heartburn etc.
Submission of important articles containing advanced research output aiding in forwarding the subject are most welcome. The Journal is using Editor Manager System for easy online tracking and managing of the manuscript processing. Each article undergoes a peer review process under the aegis of an assigned Editor. To be acceptable for publication, an article should be positively considered by two individual reviewers followed by the Editor's consent.
You may submit manuscripts as an email attachement at: digestion@alliedjournals.org and/or digestion@eurorendezvous.org or online at https://www.scholarscentral.org/submissions/archives-digestive-disorders.html
Individuals interested in becoming members of the Editorial Review Board should contact by below email.
Fast Editorial Execution and Review Process (FEE-Review Process)
Archives of Digestive Disorders is participating in the Fast Editorial Execution and Review Process (FEE-Review Process) with an additional prepayment of $99 apart from the regular article processing fee. Fast Editorial Execution and Review Process is a special service for the article that enables it to get a faster response in the pre-review stage from the handling editor as well as a review from the reviewer. An author can get a faster response of pre-review maximum in 3 days since submission, and a review process by the reviewer maximum in 5 days, followed by revision/publication in 2 days. If the article gets notified for revision by the handling editor, then it will take another 5 days for external review by the previous reviewer or alternative reviewer.
Acceptance of manuscripts is driven entirely by handling editorial team considerations and independent peer-review, ensuring the highest standards are maintained no matter the route to regular peer-reviewed publication or a fast editorial review process. The handling editor and the article contributor are responsible for adhering to scientific standards. The article FEE-Review process of $99 will not be refunded even if the article is rejected or withdrawn for publication.
The corresponding author or institution/organization is responsible for making the manuscript FEE-Review Process payment. The additional FEE-Review Process payment covers the fast review processing and quick editorial decisions, and regular article publication covers the preparation in various formats for online publication, securing full-text inclusion in a number of permanent archives like HTML, XML, and PDF, and feeding to different indexing agencies.
Just Published Articles View More
Relevant Topics