Average acceptance to publication time (5-7 days)
Average article processing time (30-45 days) Less than 5 volumes 30 days
8 - 9 volumes 40 days
10 and more volumes 45 days
About The Journal Open Access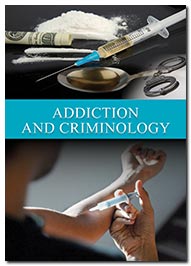 Addiction is a brain disorder where person is unable to restrain from using a substance or doing an activity or engaging in behavior. Criminology is an evolving discipline which studies characteristics of criminals, reasons for committing the crime, crime effects on individuals and communities and prevention methods of crime.
Addiction and Criminology is an open access, peer-reviewed scholarly journal designed to cover all the areas of addiction which provoke crime, in particular, alcoholism and use of illegal drugs as major criminal aspects in Criminology. The main objective of the journal is to publish articles related to decreasing substance abuse and reducing associated criminal behaviours. It includes new therapeutic strategies, advances in the neurobiology of addiction, new molecular and imaging studies, new pharmacological treatments that can be used in the criminal justice system.
The journal publishes peer-reviewed articles on relevant topics including but not limited to Criminal behavior, Criminal justice, Drug-seeking behavior, Substance abuse, Alcohol/Drug abstinence, Substance use disorders, Drug-related crime/offence, Drug/Alcohol education, Drug-related behaviours, Addictive drugs, Addictive behaviours and Drug/Alcohol counselling.
The journal offers authors with several benefits like a rapid peer review process i.e., an article is evaluated in maximum of 21 days. The journal articles are indexed at Google Scholar and IndMedica and it enables un-restricted online access by readers to all published articles without any charges.
The journal aims to publish high-standard research addressing all aspects of Addiction and Criminology in the form of Original Articles, Review Articles, Case Reports, Short Communications, Editorials, Editor Notes, Letters to Editor, Commentaries, Perspectives, Image Articles, Book Reviews, Opinion Articles, Mini Reviews, etc.
To make sure only quality scientific content is published, all the submitted manuscripts undergo preliminary quality check followed by single blind peer-review process where one of our panel reviewers will evaluate and comment on strengths and weakness of the submitted articles. The editor then checks the comments from reviewer and makes final decision on the paper. The journal operations function on an online manuscript submission portal called Editorial Tracking system where authors can submit and check status of their manuscripts, reviewers can submit comments and assess revised articles and editors can monitor whole process and submit final decision.
Interested authors can submit manuscripts as an email attachment to [email protected] and/or [email protected] or can upload online at www.scholarscentral.org/submissions/addiction-criminology.html
Subject experts are welcomed to join journal's Editorial/Review board by contacting the Editorial Office via email.
Relevant Topics