About The Journal Open Access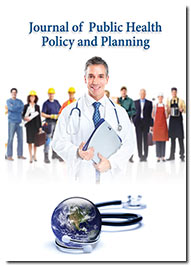 Journal of Public Health Policy and Planning is an interdisciplinary open access, peer reviewed, scholarly journal that publishes findings and developments from public health research. Planning and formulation of guidelines for public health practice as well as developing appropriate public health policies is crucial in obtaining health security for individuals and society as a whole. The journal strives to contribute to the global health policy planning and implementation.

The scope of the journal encompasses various aspects of diagnosis and treatment of infectious diseases, applied epidemiology, disease prevention, prevention and control of pathogenic infectious diseases and evaluation of health outcomes.

The journal intends worldwide dissemination of original manuscripts that highlight the effectiveness and discrepancies of health services, proper management of health service programs, health protection, and promotion of healthy practices, public health law and ethics. Articles that accentuate the widespread application of primary health care services and analysis of evidence based healthcare programs are highly solicited.
You may submit manuscripts online at www.editorialmanager.com/alliedjournals/ or you may send the article as an email attachment to [email protected]
Just Published Articles View More