About The Journal Open Access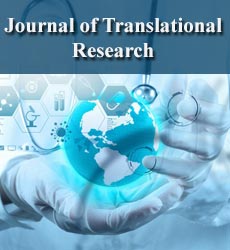 Journal of Translational Research, The journal which will be dedicated to advancing the Biological science and practice of translational research through the rapid publication of high-quality original research, systematic reviews, meta-analyses and technology reports, perspectives on all disciplines and therapeutic areas within the specialty.

Translational research applies finding from the basic science to enhance human health. In a two-stage scheme, translational research includes two areas of translation. One is the process of applying discoveries generated during research in the laboratory, and in preclinical studies, to the development of trials and studies in humans. The second area of translation concerns research aimed at enhancing the adoption of best practices in the community. Cost-effectiveness of prevention and treatment strategies is also an important part of translational science.

Aims and Scope
The mission of Journal of Translational Research (AATR) is to provide readers with a broad spectrum of themes in clinical studies, including the diagnostic, treatment, medication, and therapeutic advances in cell, tissue and gene therapy, cancer treatment, cardiovascular, metabolic and lipoprotein translation, neuroscience and on disease biomarker.

Journal of Translational Research (AATR) is an open access journal designed for the wide dissemination of research in this field to worldwide audience. New developments in methodology and techniques are important resources for the research community.

You may submit manuscripts as an email attachment at Editorial Office: [email protected] or at Authority Editor [email protected] and online at www.editorialmanager.com/alliedjournals.