About The Journal Open Access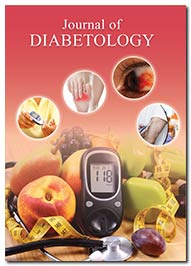 Journal of Diabetology is a multi-disciplinary international peer-reviewed, open access journal which publishes high-quality original articles reporting new information on basic and clinical aspects of diabetology and its related areas. Journal of Diabetology welcomes submissions from researchers, clinicians, and health professionals throughout the world who are interested in research, treatment, and care of patients with diabetes.
The journal includes a wide range of topics for publication that includes Diabetes and Metabolic syndrome, Pathophysiology of diabetes, Neuropathy & Retinopathy, Diet and Diabetes, Clinical Diabetology, Diabetes & Recombinant Technology, New treatments, Technologies and Therapy, Diabetes & Endocrinology Research, Diabetes Symptoms, Diabetes and Autoimmune diseases, Diabetes Epidemiology, Obesity and Diabetes, Diabetes Management and Cure, Diabetes Biomarkers, Cardiovascular Diseases, Genetic Diabetology, Metabolic dysfunction and Obesity, Diabetes and Exercise, Type I & Type II Diabetes, Molecular Diabetology, Ayurveda and Diabetes, Anti-diabetic Drugs and Research, Diabetes: Diagnosis and Implications, Diabetology: Killer Fruit.
Journal of Diabetology encourages authors to submit manuscripts as editorials, reviews, commentaries, reports of expert committees, and case reports on any aspect of diabetes. All manuscripts are peer-reviewed and published under the guidance of our Editorial Board members to assure that high-quality information in the field of diabetes is made available to readers.
You may submit manuscripts as an email attachement at [email protected] or online at www.editorialmanager.com/alliedjournals
Individuals interested in becoming members of the Editorial Review Board should contact by below email.